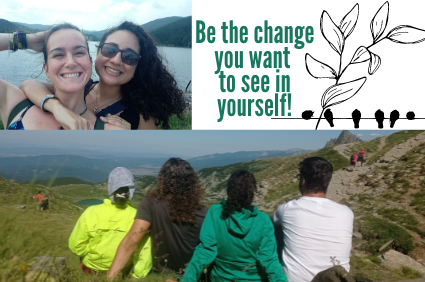 CARLA, NOW IN BULGARIA!
Africa, Saint Vincent and the Grenadines, Ecuador, Jamaica, Norway...
many countries, many ideas to develop volunteerism in relation to social and environmental aid and a lot of desire put into it.
But the global health situation has taken advantage and decided what opportunities awaited me, so everything changed and nothing is what it was a year ago.
I had to discard projects, I put others on hold or modified others and I ended up choosing other alternatives.
And thanks to that, I am in Bulgaria with the European Solidarity Corps (ESC) program, in the Values, Virtues, Integrity Foundation.
I'm going to start by telling something funny and at the same time a bit embarrassing: I have lived in Europe my whole life, but I still had to find where Bulgaria was located on Google Maps... And that was after I had already accepted the request to come here and met my group that I was going to work with for the next eight months.

I CAME TO THE ADVENTURE SINCE THE DESIRE TO TRAVEL, KNOW AND ADD EXPERIENCES CONTINUED IN MY MIND AND MY HEART.
AND THIS IS ONLY FOR TWO MONTHS,
And it really seems like a lot, but it has flown by and I barely noticed it.
There have been intense weeks, full of learning and with energy to cope with the rhythm of the foundation's work.
Some things that I find interesting about my stay in Bulgaria:
1. The words seem to be written with pictures (since they use a different alphabet, Cyrillic).
2. You have to use the flash to walk down the street, since there are several imperfections on it and there is little lighting.
3. Despite being in the centre of the Bulgarian capital, there are plenty of green areas.
I have even found my favourite park to run.
4. I feel at home, since one day I decided to do a half marathon in every place that I lived. So the Plovdiv half marathon is already waiting for me. In addition, the foundation treats us like family.
5. When someone dies, people close to them hang their obituaries on doors or trees and they remain there for a long time.
6. The importance of non-verbal language and getting out of the comfort zone are very important, since even without speaking the same language it is possible to communicate and do things.
7. Sharing a flat (like what we know as a student flat) with 4 people that I don't know at all, for 8 months! And I can also say that I have had a very good friend connection and trust with the other girl in the project, Xenia.
8. I got my vaccination on a bus, without waiting, without age groups and without anything else. I just arrived, presented the passport and chose the vaccine.
9. I find it very calm to walk in the morning or at night through the streets of Sofia and next to the Cathedral Saint Aleksandar Nevski.
10. Being able to have the possibility to meet people from other European countries and work and share time with them.
WHAT'S NEXT BULGARIA?