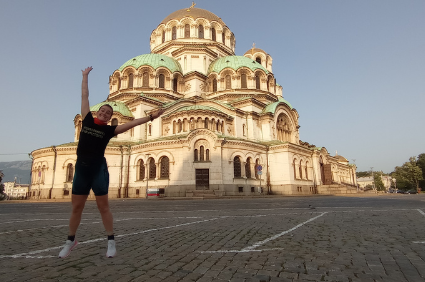 Carla Barrado Guillén
I am Carla and I am 26 years old.
In my passport it says that I am Spanish but I prefer not to pigeonhole myself in any country, since my soul feels free and has many desires to travel and be part of different cultures.
I find myself at a time in my life in which I want to interact with new people, get to know other cultures in their full essence and learn by doing. I'm a very active, athletic, energetic and quite proactive person. Something curious and very important about me is that the pillars of my day to day are based on respect, communication and loyalty. I live the present day with great enthusiasm and whenever I go to bed I do it with a smile, knowing that the day has been worth it.

Perhaps my training and my experiences during other social volunteering have led me to currently participate in the INSPIRE project (Values, Virtues, Integrity Foundation).
I really believe that the program has chosen me, since my passions are united: mountains, free time, young people and the environment.

Speaking a bit at a bureaucratic and paper level, I can proudly say that I am a Social Worker with a mention in cooperation and internationality and I have a Master's Degree in Addictive Behaviors.

In addition, I have some non-formal studies on the fight against poverty and climate change that have allowed me to open my mind, and it is the reason why I continue in this lifestyle and carry out these voluntary actions.
And, to conclude this short presentation I would like to leave two sentences that mean a lot to me:

-The first is, "We live in a world where the funeral matters more than the dead, the wedding more than love, and the physical more than the intellect. We live in container culture, which despises content", by Eduardo Galeano.

-And the second, "On the flag of freedom I embroidered the greatest love of my life", by Federico García Lorca.

Bulgaria, I am looking forward to meeting you.